Forklift Safety Light
7INCH OVERHEAD CRANE WARNING SAFETY LIGHTS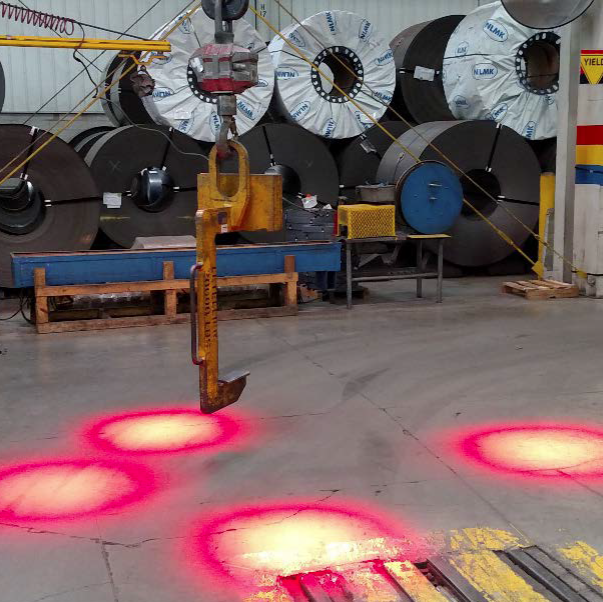 Product Description
ENSURE A SAFE WORKPLACE
Pedestrian will see the light movement which will create awareness that there is heavy work going on
in their area and they should take caution and move away from the area.
This product is built for the heavy style industry but can be used in your standard warehousing situation.
Benefits:
Reduce accidents!!
Many crane accidents involve pedestrians—so warning them of the presence of the hook is highly beneficial.
When pedestrian sees beam or color zone on floor–he knows a crane is in close proximity
Very effective for more precise positioning of the crane by the wireless remote operator
Crane safety lights Specifications:
Voltage: 9-48V DC
Lumens: 14000 lm
LEDs: 14 leds 140W
Working life: 50000 hours
Size: 7inch
Waterproof: IP67
Working temperature: -40~85℃
Material: Aluminum die-cast housing.
Approval: ISO9000 CE RoHS
Packaging: Individually boxed with foam.
Adjustable mounting bracket: 150 degree up/down.
Lifetime hours: up to 30,000 50,000 hours.
Accessories can be choose:
1.150W AC/DC power supply to power
2."Line" lens cover
3."U" Shaped adjustable mounting bracket
How it works:
The overhead crane spotlight can be mounted on any overhead crane
150 degree up/down mounting bracket allows precise positioning of beam on floor below
Beam is usually positioned so pedestrians below are aware of the presence of the hook above them
The crane safety lights can be used in a single light configuration, double light configuration (leading and trailing) or quad light configuration (creates danger zone box),depending on your application
Notice:
1.Overhead crane warning safety lights can Increase Productivity
Improved workplace safety is not the only thing you're getting with our Overhead Crane Safety Light System, though. It's also designed to provide your crane operators with visual cues as to the exact position of the load they are moving, eliminating the need for time-consuming (and potentially risky) guess work.
2.Overhead Crane warning safety lights can be used Perfect for Both Indoor and Outdoor
Use the lamps on our Overhead Crane Warning Safety Light are bright enough to be used in both indoor and outdoor settings. This eliminates the need for you and your workers to switch between two different units when moving loads in and out of your indoor work area.
Pls check the moving video from follow link:
Related Crane Warning Light--- Laser Line Light & Virtual Sing Projector