Forklift Safety Light
110V High Voltage 6W Forklift Warning Light Blue Point Spotlight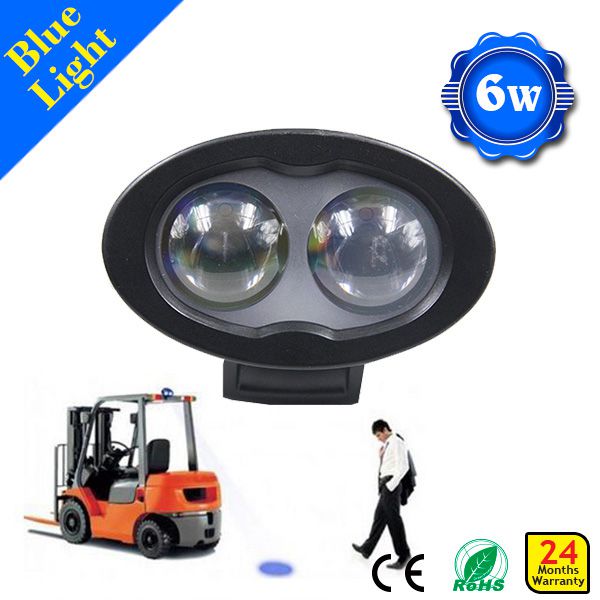 Product Description
OVERVIEW
Forklift Safety Lights is a better solution for many forklift drivers, the reason is the safety light is not as annoying as those beacon lights, which make the operators are willing to use it.
Toptree Blue Spot Safety Light alerts pedestrians and other vehicles of forklifts approaching blind corners, cross aisles and exiting semi trailers. The Forklift Warning Light projects an intense Blue Point Spotlight 16 to 24 feet in advance of the forklift to alert others of oncoming traffic. The can be installed on the front or back of any forklift or any piece of industrial equipment.
Why you need the light? More details click here!
When the LED Safety Warning Spotlight assembly is mounted to a forklift or other moving vehicle, it projects bright blue spot beam pattern on the floor surface. Since multiple lights can be mounted onto a single fork lift truck, the warning light spots can be seen behind or in front of the forklift. The bright light spot on the floor is clearly visible to pedestrians, machines and vehicles in the area, regardless of the ambient noise, alerting them to the nearby presence of the forklift. Traditional audio back up alarms can blend into ambient noise in the building and pedestrians can become immune to the audio warning.
FEATURES
1. The polycarbonate housing and lens are Impact- and corrosion-resistant
2. IP 67 : Completely sealed against dust and water.
3. Helps identify dangerous areas to reduce injuries
4. Also available in red/blue
5. Easy for mounting
6.Light projects onto the floor 10-15 feet behind the moving forklift
7.Ideal for loud and busy forklift environments
8.Pattern Type:blue spotlight/red spotlight/blue arrow
Product information
Model: TPBL6W
Description: 9-110V LED Blue Safety Light
Shape: Oval
Lamp Type: LED
Outer Lens Material: Polycarbonate
Outer Lens Color: Clear
Reflector's Materials: PC with chrome
Housing Material: Polycarbonate
Housing Color: Black/silver
Mounting Type: Universal Pedestal Mount Minimum Operating
Temperature: -40 °C / -40 °F
Maximum Operating Temperature:50°C / 122 °F
Warranty: 2 Year
Dimension: 122X75X75mm
Power: 6W
Lumens: 600Lum

APPLICATIONS
Excellent choice for forklift
Blue Light Installtion Download